Edsel # ?
Summer 1987: 1958 Ranger 2 door hardtop, Ember Red and Snow White, Indiana, PA
This was the first Edsel I ever saw... and I almost talked my dad into buying it (for $800!, but I was only 9 years old) All it needed in the summer of '87 was a good paint job and some new tires, but by the time it disappeared around 1991, it had smashed windows, rodent damage to the seats, a broken hood ornament and a few dents. I don't know who bought it, but it would have been a great project. I spent many afternoons taking bike rides to "visit" the car and photograph it.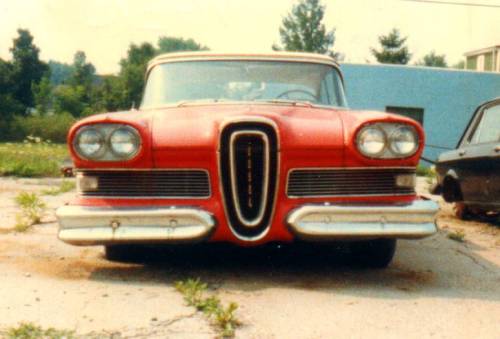 Edsel 702686
October 2001: 1958 Ranger 4 door sedan, Spruce Green Metallic and Snow White
I looked at this car in Plum Boro, PA and considered buying it. The body was very rusty, but it had a lot of good parts, and it ran like a charm! It was recently sold on e-bay.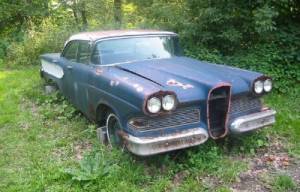 Edsel 711443
November 2002: 1959 Ranger 2 door hardtop, President Red and Desert Tan
I looked at this car in Indiana, PA and and nearly bought it. What a great color combo this was, plus it had two spotlight mirrors! The body was kind of rusty in the usual places, but it was in really great shape otherwise. If I hadn't just bought mine a few months earlier, I would have owned this one! Not sure if this one sold yet or not.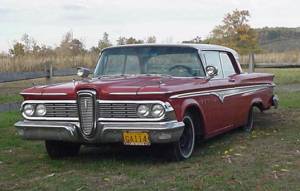 Edsel 732167
August 2003: 1959 Ranger 4 door sedan, Desert Tan
I looked at this car in Dravosburg, PA and it has really nice chrome. The interior could probably be salvaged as well. The body is a bit beaten up, but not a whole lot of rust. From what I understand, the engine is frozen up. I'm planning to take a picture soon when the weeds die back.
Unfortunately, this car was damaged in a flood and disappeared before I had an opportunity to photograph it.