My first contribution is from David Fleischer. He wrote: "Back in 1980, I purchased a turquoise four door hardtop in rather decent original condition for $850 or so. I enjoyed the car for a year and then sold it in 1981 to help pay for an engine overhaul in one of my other edsels. The car changed hands several times and I lost track of it. Just last year, I rediscovered the Pacer in a collection in Akron, Indiana and was shocked at its present condition." Thanks for the first contribution David, and thanks also for the inspiration to create this page!
David's Pacer in 1980.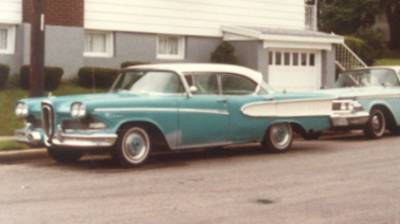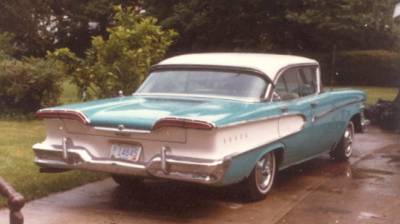 My second contribution was helped along by David Fleischer. I spotted this car on e-bay and e-mailed the folks at edselmail to let them know about it. David e-mailed me back to tell me that he knew this car. He wrote: here are "the pictures of the ebay Pacer that I took when I looked at the car in Sept 1977. You can see it was still a very sharp car back then." Too bad this one fell into disrepair! It would be a great project... particularly since it was originally a Coral tritone that has a low build number (702160). I hope to see this one sell to someone who is going to save it! I would adopt it myself if I had the space!
*UPDATE* David passed along word that this car was purchased by a Pacer convertible owner in Ohio and is being used for parts! At least it isn't getting scrapped, but I think a lot of us would have liked to have seen this one back on the road!
September 1977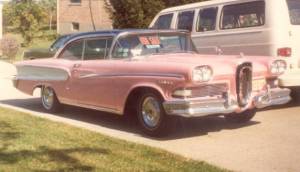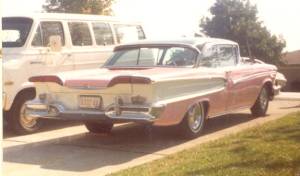 Here is a photo submitted by Dave from Kentucky. This Corsair 4 door sits in his neighbors yard. Too bad to see one go like this, but there's still something very beautiful about it. Guess it must be because it's an Edsel!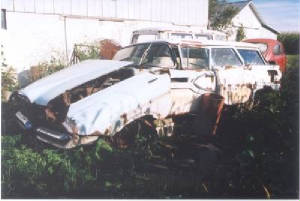 Thanks to Andy H. from Ohio for these three photos of a '59 Villager that he bought and parted out. It had been sitting in a West Virgina field since 1969 and wasn't worth restoring, but it provided a wealth of parts for other Edsel restorers! According to Andy, there wasn't much left when it was scrapped.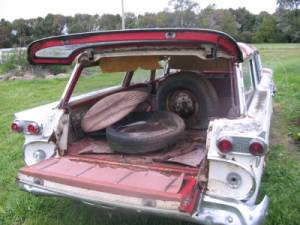 Here is another submission from David F. He wrote:
"Here are some pictures of a Pacer convertible I found along the Miami River in 1977 in Cincinnati. The car was submerged every spring when the snow melted."
What a tragic car, but we see this a lot... a group of junked cars parked near a river that rises every spring to submerge them. It boggles my mind to think that these cars were disposed of in this manner.